You're Scheduled!
As Kohl's begins to re-open, we continue to do our part to slow the spread of COVID-19 by providing additional safety and sanitization measures to prioritize the health and safety of our associates, customers and candidates.

One safety measure we've implemented is connecting with you by phone rather than in-person. Thank you for signing up to participate in Kohl's Hiring Call. Here are some details to help you prepare. We're excited to speak with you!




What to Expect On Your Call



Position Overview
We'll review the position with you and answer any quesitons.
Tip: Check out the Distribution Job highlights below.

Shift Preference
Be prepared to discuss when you are available to work and what shifts are best for you.
Tip: Each building offers various shifts. Examples: Early Mornings, Mornings, Evenings, Overnights, Weekdays, Weekends.

Offer
You may receive a verbal offer.

Tip: If you receive an offer, offer & background forms will be sent to your email following the call.

​​​​​​​Start Date​​​​​​​
We'll work with you to select a start date.
Tip: Have your calendar ready.
It will be helpful to have...
Calendar
Have your calendar handy to confirm your preferred work schedule and start date.
Have a pen & paper handy to write down any important notes from the call.
Internet Access
Have your computer or mobile device handy to quickly complete job offer forms following your call.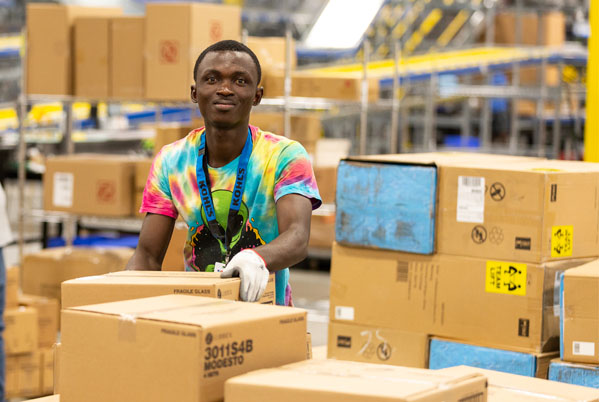 Material Handler
Just like the products and orders we ship, our associates move FAST! (In comfy clothes of course.) You'll interact with systems, equipment and great team members to pick, pack and ship our merchandise so each product gets to the right person at the right time.
Human Resources
You are friendly and helpful. Your knowledge and enthusiasm keeps associates informed and excited to come to work everyday. From hiring events to onboarding - you are the go-to resource for our candidates and associates to ensure they have a great hiring experience and the support they need to do their best work.
Click here for Logistics HR positions.
Warehouse Management
Are you a natural born leader? We don't just talk about development and engagement - we live it! Help to provide a clear vision for the team to rally behind and set objectives that stretch associates to achieve what they may have not thought possible. We're looking for a coach, a motivator and a mentor. Ready to come lead our teams to greatness? You might be just who we've been looking for!
Distribution Loss Prevention
You've got a knack for detective work and a natural curiosity. You like putting on your investigator hat to use data analysis for internal and external investigations, implement asset protection programs and provide physical security. With your hard work and sleuthing skills, you'll help us keep Kohl's profitable and safe.
Maintenance
Troubleshooting is in your DNA! Our maintenance teams are a strategic partner and play an intricate role in ensuring merchandise and packages make it to their final destination. Quick to act on their feet by problem solving when things go wrong, they also create preventative programs, work on capital projects and inspect and service equipment. Have no fear, maintenance is here!
What We Do for You
We're not your ordinary "warehouse job". Check out what makes our careers different.